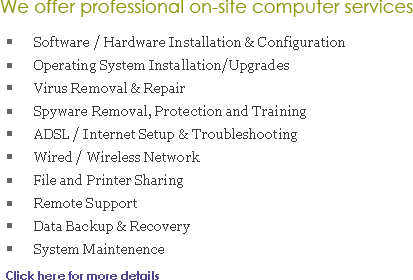 Don't give away your right to use Genuine software.
Recently I received a call from one of my clients regarding the Windows Genuine Advantage problem, her computer is an HP and the machine has Windows Home Edittion bundled with. After a small investigation I finally found out that, her PC was reinstalled with an illegal copy of Windows XP Professional edition by some technician.
I tried to restore the machine to its factory default but lately recognize that, the Recovery Partition (A small portion of the hard drive that is used to store Default setting) has been deleted as well. The only option I can do for her was to remove the WGA nag screen but she has lost her right to use Windows Genuine Advantages such as Support and receiving Updates.
As an advice, I recommend you to find truth source of technician to fix your computer, always make a Recovery CD set and ask your technician not to delete your original and genuine Windows! It's also very important to preserve your Recovery Parttion.
You can always contact me to get free advice and discuss about options to keep your genuine Windows.

" Discovering the Quyda made my computer and technical adjustment to Hanoi quick and stress free. Dao Anh Quy's combination to speak English well, technical expertise and ability to research information quickly also serviced me with cable and a DVD player. I found his service to be professional and excellent in every way"
Stacie John
" I can highly recommend Mr Quy - he is fast, efficient, polite - and really knows what he's doing! Quy takes customer service very seriously and has a great business attitude. An extra bonus is that he speaks English very well and can explain all the options for getting your computer back to work. I wish him all the very best. "
Marie - Bookworm Hanoi